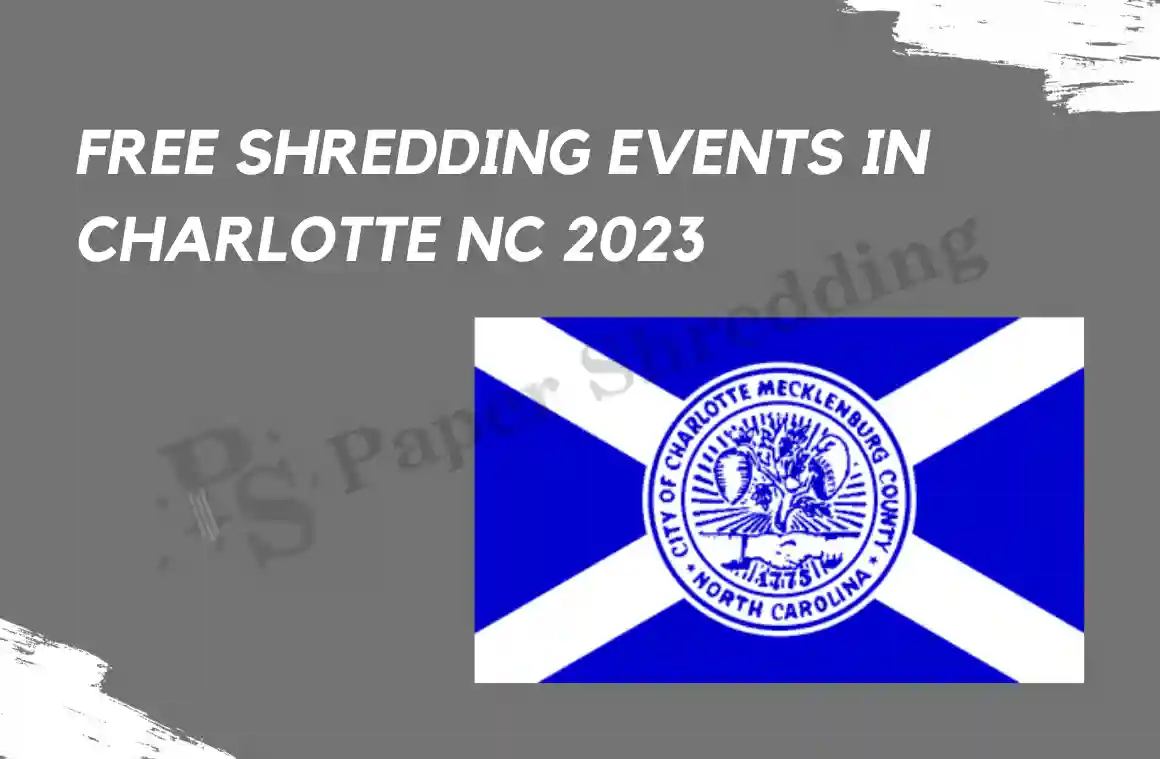 Free Shredding Events in Charlotte NC 2023
To protect nature and safeguard the confidential information of residents and local businesses from identity thieves and fraudsters, disposing of old unwanted papers in a secure and environment-friendly way is essential.
Many options are available for safe paper disposal like using a paper shredder, appointing a paper shredding service, etc. However, attending a paper shredding event is the best of all.
This is why, in this article, we are going to share a list of upcoming paper shredding events organized in Charlotte, North Carolina. So, if you are interested in protecting your sensitive information and reducing the risk of financial loss in the future, get ready to find a perfect shredding event from a list of all the free shredding events in Charlotte NC 2023.
Table of Contents
Why are Free Shredding Events in Charlotte, NC Important?
To reduce identity theft crimes and offer a secure document destruction option to the residents, shredding events are organized in cities like Raleigh, Winston-Salem, Houston, etc. Charlotte is also a city located in North Carolina. It is the most populous city in the state with a population of over 874,579 according to the 2020 census.
Not only home to such a large population, Many big companies and business cooperations are headquartered in Charlotte, North Carolina. So, by organizing free shredding events in Charlotte, NC, organizers have started to bring a change in the information safety of the residents. Further, to find a free shredding event Charlotte, NC, check out a list given right below in the article.
Upcoming Free Shredding Events Charlotte, NC 2023
Identity theft and fraud have become a serious threat to all the residents and local businesses of the city. To give an easy answer to your question 'Where to shred paper for free near me', below we have given a list of upcoming shred events Charlotte, NC. So, be safe and check out the following list:
October 25, 2023 (Free Drive-thru Document Shredding Event)
Timings: 9:00 AM – 12:00 PM
Venue: Greenville Convention Center
Address: 1 Exposition Drive, Greenville, SC
Contact: (864) 331-3319
Additional Info: Each consumer or business can bring up to 3 banker boxes (10'x12"x15" size) or 3 kitchen plastic bags (13-gallon size). Do not bring desktop computers, monitors, laptops, printers, or external hard drives. You don't need to remove binders, binder clips, paper clips, staples, rubber bands, or CDs/DVDs before shredding.
October 28, 2023 (Shred Event at Bethel Church Road)
Timings: 10:00 AM – 12:00 PM
Venue: Bethel Church Rd
Address: 19721 Bethel Church Rd, Cornelius, NC 28031
Additional Info: Sponsored by Susan Johnson & Associates. Open to the public – No charge. No box/bag limit
November 4, 2023 (Shred Day Event)
Timings: 8:00 AM to 12:00 PM
Venue: Gastonia Farmers Market
Address: 410 E Long Ave, Gastonia, NC, USA
Contact: 704-853-0049
Additional Info: Shred sensitive documents. Recycle old electronics. Dispose of outdated medicines properly.
November 18, 2023 (Free Document Shredding Event for Chatham County Residents)
Timings: 9:00 AM – 1:00 PM
Venue: Solid Waste & Recycling Main Facility
Address: 28 County Services Road, Pittsboro, North Carolina 27330
Contact: (919) 542-5516
Additional Info: Chatham County residents can bring up to three boxes or bags of household documents for free shredding. Please remove papers from folders or files, as those items can go in your recycling bin. CDs, tapes, etc. are not accepted. This service is for residents only; businesses are not allowed.
Conclusion
Shredding is one of the best techniques to dispose of your unwanted confidential papers securely and effectively. Not only, it prevent the threat of identity theft, but it also provides benefits like reducing financial loss, cost saving, secure document destruction, community engagement, spreading awareness, etc.
So, be responsible and find the best free shredding event Charlotte, NC for your needs from the list of upcoming free shredding events in Charlotte, NC 2023. Furthermore, read additional information about the event carefully to avoid any trouble during the event. Also, visit the official website of the chosen event before arriving. So, secure your privacy and safely dispose of your sensitive documents, with free shredding events Charlotte, NC.
Frequently Asked Questions
Do You Have to Remove Paper Clips Before Shredding?
No, you don't have to remove paper clips before shredding as most of the shredding events use heavy-duty industrial paper shredders that can handle small metal items easily. However, check additional info on the event before arrival.
What is an Alternative to Shredding Documents?
The shredding event is one of the very popular and secure ways of shredding documents. However, if you don't want to attend the event, use alternatives to shredding papers like burning, pulping, composting, shredding by hand, etc. for disposing of your unwanted papers.
How Secure is Shredding?
Shredding is one of the very secure and effective ways of destroying your sensitive papers as paper shredders cut your papers into small pieces which will further recycle. It helps to protect your sensitive information from identity thieves.