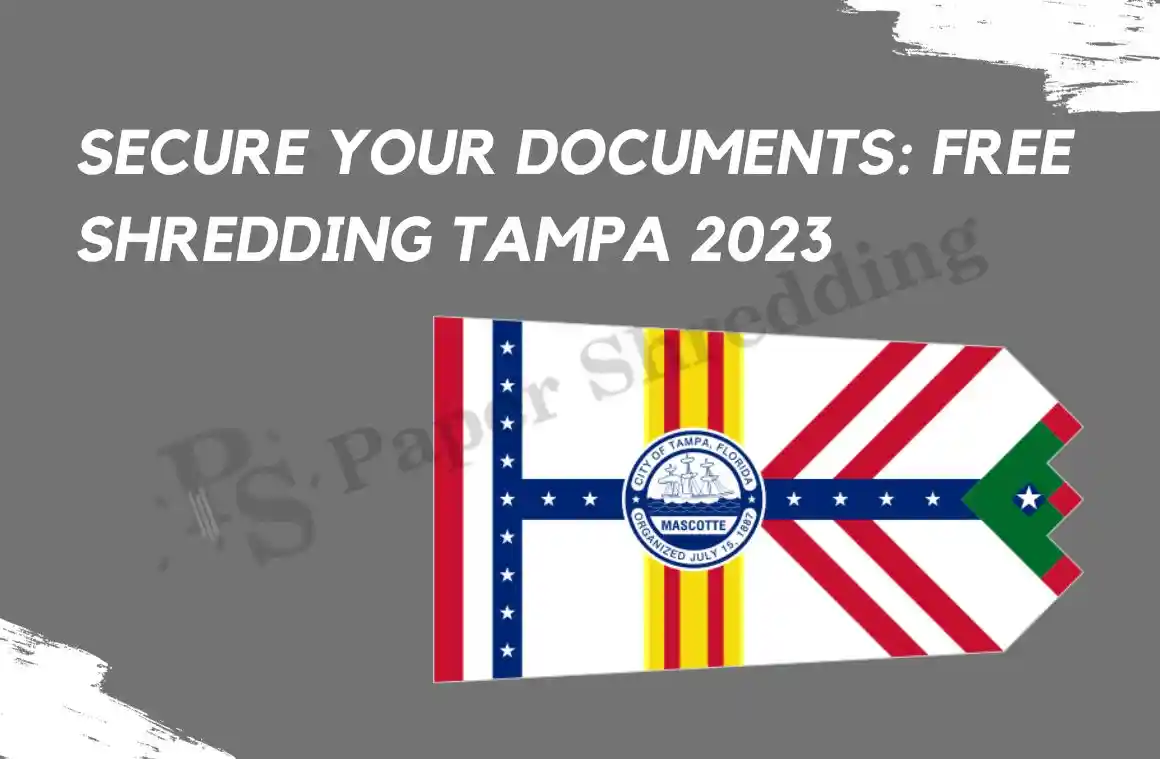 Secure Your Documents: Free Shredding Tampa 2023
Identity protection is a responsibility for everyone as it can cause huge financial loss and ruin your mental peace. For the past few years, the number of identity theft and fraud cases has increased in several parts of the United States. So, to protect the identity of residents and reduce these numbers, community shredding events are organized all over your place.
We have discussed upcoming paper shredding events organized in different parts of the USA on the website. However, in this article, we are going to talk about the need for paper shredding events in Tampa, Florida, and also give a list of all the details about the upcoming events of free shredding Tampa 2023.
So, protect your identity and be responsible for your confidential data, with free paper shredding events organized in Tampa, Florida in 2023.
Table of Contents
Need of Free Shredding Tampa, Florida
To reduce the risk of financial loss due to identity theft crimes and offer a secure environment to the residents, free paper shredding events are organized all over the country.
You can also use other alternatives to shredding paper events like using the best paper shredders or appointing secure paper shredding services Tampa. However, attending a paper shredding event is the best option as it saves a lot of time and money which you could have spent in other options.
Coming to the need for free shredding Tampa is real as it is an economically growing city located on the Gulf Coast of the U.S. state of Florida. It is a home of little less than half a million people and also a headquarters to many Fortune 1000 companies. Many small and large businesses are also operating in Tampa, Florida.
So, to protect the confidential information of the people of Tampa and also of local businesses, many small and large events are organized for free paper shredding Tampa.
Now, that you have understood the importance of free community shredding events in Tampa, find the best shredding event for your needs from a list given below of all upcoming shredding events organized in Tampa, Florida.
Upcoming Events for Document Shredding Tampa
Here, we have shared the details of upcoming free shredding events near you that offer a secure paper shredding service along with other benefits like environmental safety, cost-saving, spreading awareness, community engagement, etc.
Find out the best shredding event for safe document shredding services Tampa from the list given below:
October 25, 2023 (Palm Bay Shred Day!)
Timings: 08:30 AM to 10:30 AM
Venue: Launch Credit Union (Palm Bay)
Address: 5225 Babcock Street NE, Palm Bay, FL 32905
Additional Info: Bring up to five boxes of paper material to have it securely shredded and disposed of at NO CHARGE. Please do not include plastic, such as plastic bags or CDs, and no metal or garbage. Remove metal and binder clips. However, it is not necessary to remove staples.
October 28, 2023 (Heritage Park Shred Event)
Timings: 10:00 a.m. to 1:00 p.m.
Venue: Land O' Lakes Heritage Park
Address: 5401 Land O' Lakes Boulevard, Land O' Lakes, FL 34639
Contact: AARP Florida- [email protected]
November 4, 2023 (The Big Shred)
Timings: 12:00 PM – 2:00 PM
Venue: Estero Rec Center
Address: 9200 Corkscrew Palms Blvd., Estero, Florida 33928
Additional Info: Limit three banker boxes per car. No plastic bags for electronics are accepted.
Conclusion: Document Shredding Tampa
Document shredding is a popular technique used in offices and homes to dispose of unwanted papers. It reduces the threat of falling confidential information into the hands of identity thieves. They are useful not only for preventing identity theft but also for protecting the environment, complying with data privacy laws and regulations, saving time and money, spreading awareness, etc.
In this article, we have shared a list of upcoming events for free shredding Tampa that provide a safe and secure environment to all the residents. Some events may also allow small businesses to shred sensitive papers for free which helps them to comply with all the data privacy laws and regulations at low cost.
Before arriving at the event, remember to check out all the additional information about the event to avoid any trouble during the event. Also, check the official website before attending for any kind of updates. So, attend a community shredding event in Tampa and protect your sensitive information from identity thieves.
Frequently Asked Questions
Do You Have to Remove Paper Clips Before Shredding?
No, most of the paper shredding events use advanced heavy-duty paper shredders that are capable of destroying paper clips along with papers. However, check out the official website for kind of information on materials acceptable at the event.
Why Must the Paper Be Sorted Before Shredding?
Document sorting is important because it helps in identifying which papers need to be disposed of first. Shred confidential papers first as many events have limits on paper shredding. Keep the papers clean. Wet and dirty papers cannot be recycled.
Is Shredded paper recyclable?
Shredded paper can be recycled. Many paper shredding events send the shredded waste to the paper mills where the shredded waste will turn into paper products. However, not all the events collect the shredded paper for recycling as many paper mills can't accept the shredded paper.