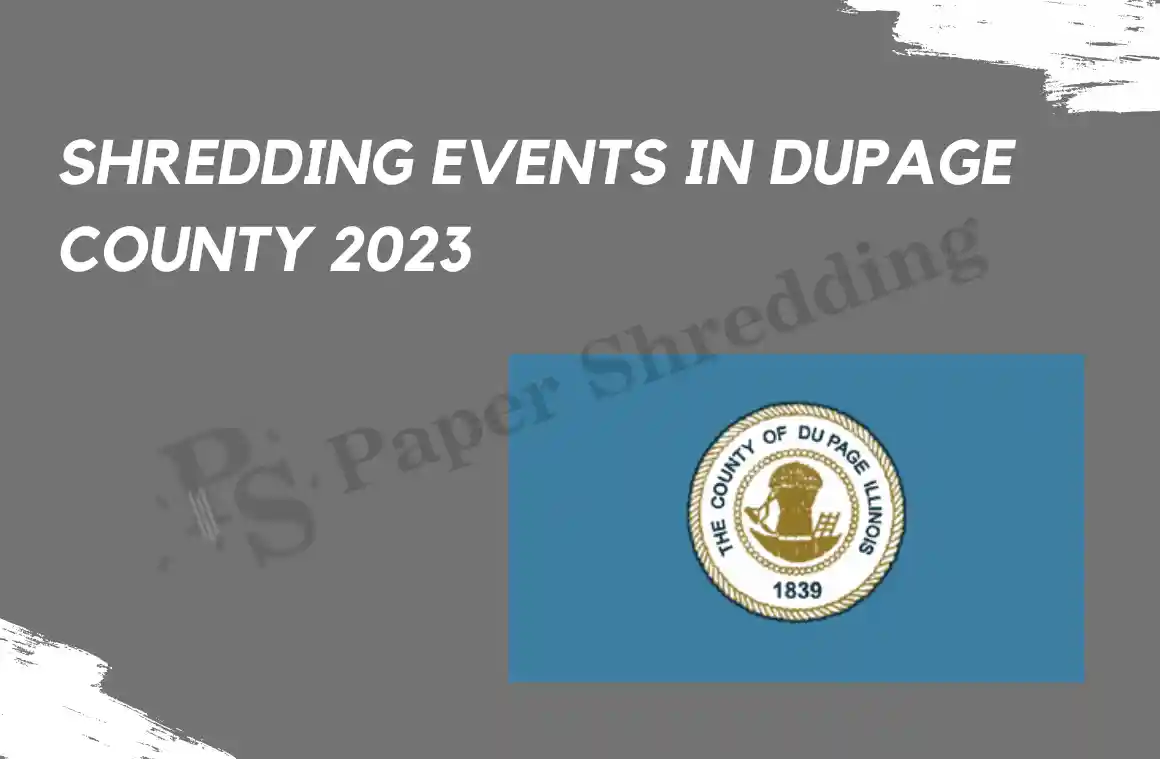 Free Shredding Events DuPage County 2023
To fight against identity theft and protect the confidential information of yourself, shredding old unwanted documents that are cluttered in your home is important. While searching for secure document destruction, we have come to one of the most popular paper disposal options- Free Paper Shredding Events.
In this guide, we discuss many of the paper shredding events Dupage County, Illinois. They are usually less expensive and more eco-friendly than other shredding options. So, don't waste any more time and safeguard your information from unauthorized access to keep your identity safe with free shredding events Dupage County 2023.
Table of Contents
Why Free Shredding Events DuPage County are Important?
Dupage County is one of the most developed economies in Illinois, United States. With a population of over a million people, it is the second-most-populous county in Illinois. While it has some farmland in the western and northern parts, it is also home to many large cooperations. While it has a growing economy, the need to protect the confidential or personal information of individuals as well as local businesses is important.
To secure their identity, many local community centers, NGOs, charities, local businesses, etc. organize free shredding events Dupage County 2023. You can save a lot of time and money by attending the events. Check out the list given below to find the right Dupage County shredding event easily and quickly.
Upcoming Paper Shredding Events Dupage County
While these free shredding events are organized all around the county, finding the right shredding event can be difficult. So, to save you time, we have given shared all the upcoming free shredding events Dupage County 2023 along with important information:
October 21, 2023 (Paper Shred to Benefit Special Olympics)
Timings: 9:00 AM – 1:00 PM
Venue: View Facility, Police Department
Address: 500 North Cass Avenue, Westmont, IL 60559
Additional Info: Adonation of $10 a box is suggested at the event.
November 11, 2023 (Shredding Event)
Timings: 8:00 AM – 10:00 AM CST
Venue: 2701 S Harlem Ave
Address: 2701 S Harlem Ave, Berwyn, IL 60402
Conclusion
These free shredding events are helpful to protect our confidential or personal information from any unauthorized access. They protect against identity theft and offer other important benefits like convenience, cost-efficiency, compliance with data privacy laws and regulations, environmental sustainability, etc.
Above we have shared all the upcoming Dupage County shredding events to provide an easy way of finding a perfect shredding event for all the specific needs. Read all the important information given with every event carefully. To avoid any confusion or to get more secure, visit the event's official website. So, be secure and shred all unnecessary documents easily and safely.
Frequently Asked Questions
What Are the Different Types of Confidential Documents for Shredding?
Bank statements, medical records, credit card bills, financial statements, etc. are very important to shred to protect the personal information of residents and businesses from identity thieves.
Is Paper Shredding an Eco-Friendly Way of Destroying Documents?
Paper shredding is a cost-effective and eco-friendly way of destroying your old unwanted documents. It protects a large amount of paper waste that can go into landfills.
Why Attending Free Shredding Events Important?
Attending a shredding event is important as they help to secure the information from identity theft and reduce the risk of financial loss in an effective yet cost-efficient manner.