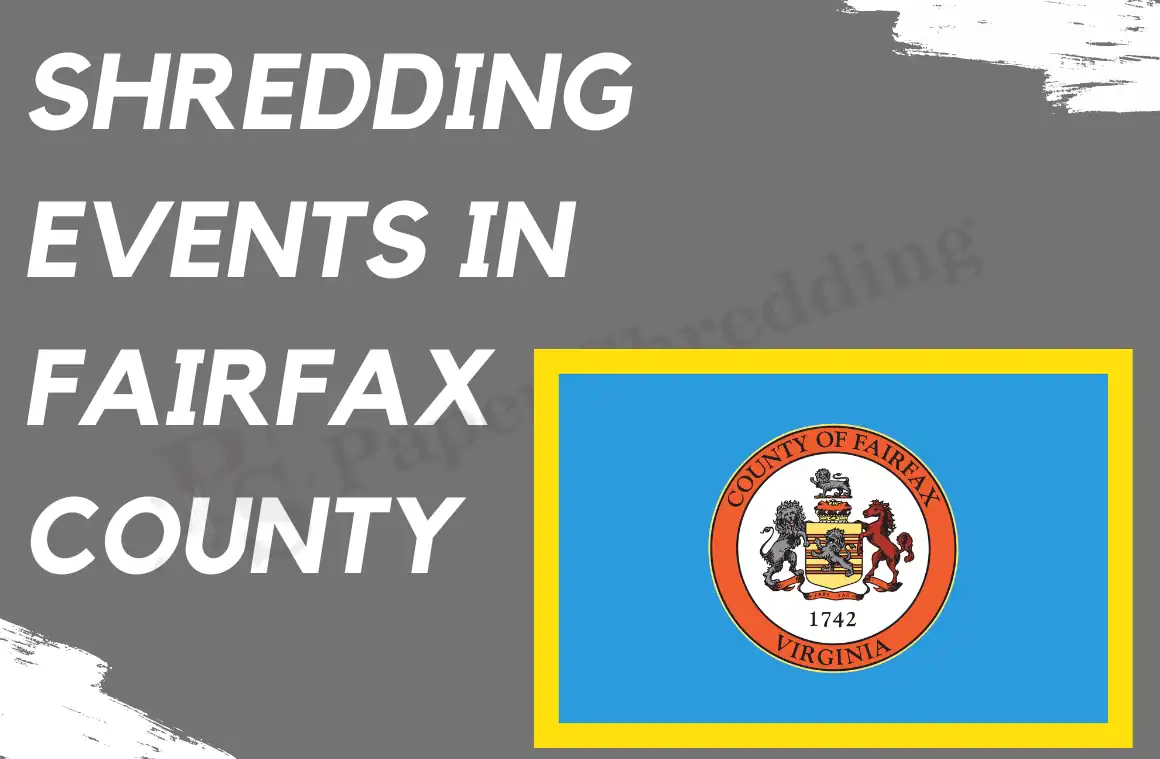 Free Shredding Events in Fairfax County: Eco-Friendly Disposal
While cleaning the house or office space, we often realize that paper documents take up a lot of valuable space. This space can be utilized for storing more useful things. But how do we eliminate all such documents that are not required anymore? If you face a similar issue, upcoming free paper shredding events in Fairfax County 2023 can be the perfect solution.
Like every year, Fairfax County shredding events are also getting organized this year. All these events offer eco-friendly shredding options to dispose of your unwanted confidential documents if you reside in Fairfax Count or a nearby location and are willing to get rid of unwanted documents. Join us as we explore the benefits of shredding, how these events work, and the win-win situation for you and the planet.
Table of Contents
Introduction to Shredding Events in Fairfax County 2023
Fairfax County is a bustling area in Northern Virginia, just outside Washington, DC. It is considered one of the state's largest and most populous counties. The same is home to a diverse population and various business organizations. This is the primary reason why the secure disposal of documents becomes extremely important. Whether it's personal information, confidential company records, or government documents, proper document shredding is essential to safeguard privacy and avoid identity theft. This helps maintain data privacy.
Free paper shredding Events in Fairfax County 2023 provide various shredding opportunities to all individuals and, many times to business organizations as well. Confidential documents are shredded safely, and risks such as identity theft are eliminated.
Benefits of Fairfax County Community Shredding Events 2023
Fairfax County shredding events provides various benefits, such as preventing identity theft and safe document disposal. A list of all such various benefits is listed below.
These events help to protect the environment by reducing the number of papers that ends up in landfills.
The shredding services offered in Fairfax County document shredding events are either free of cost or ask for minimum donations. This means you can shred your documents for free or at a nominal cost.
Local authorities often organize shredding events in collaboration with the best service providers. This means that the documents are shredded and disposed of with high security.
Dates and Location: Fairfax County Shredding Events 2023
Since we have already discussed the basics and importance of shredding events, we'll now share the complete list of upcoming free paper shredding events in Fairfax County 2023.
Please note that the events mentioned below are free and open to all unless mentioned otherwise. We have also included free paper shredding events at nearby locations. If you are a resident of Fairfax Count or a nearby location, consider visiting these free paper shredding events in Fairfax County to eliminate unwanted documents.
The list of events is as follows:
October 11 (GovCX Collective + Pulse of GovCon: Shredding the RFP)
Timings: 4:00 pm – 6:00 pm
Venue: 1919 Gallows Road, Vienna, VA 22182
Address: 1919 Gallows Road, Vienna, VA 22182 United States
October 14, 2023 (FREE Community Shredding Event)
Timings: 09:30 AM – 11:00 AM
Venue: Calvary United Methodist Church
Address: 2315 S Grant St, Arlington, VA, United States
Contact: Geva and Jane Real Estate / Arlington VA / Keller Williams
October 28, 2023 (Shredding Event – Holy Spirit Parish, Annandale)
Timings: 10:00 AM – 12:00 PM
Venue: Holy Spirit Roman Catholic Church
Address: 5121 Woodland Way, Annandale, VA 22003, USA
November 18, 2023 (VLP: Client Shredding Event)
Timings: 9:00 AM – 12:00 PM EST
Venue: VLP Financial Advisors (Office)
Address: VLP Office 8391 Old Courthouse Road Vienna, VA 22182
Additional Info: Binders are not acceptable for shredding.
April 13, 2024 (McLean Earth Day – Act Locally)
Timings: 9:00 AM – 12:00 PM
Venue: McLean Community Center
Address: 1234 Ingleside Ave. McLean, VA 22101
Additional Info: Paper shredding is provided by Shred-Instead. Limited to personal use only up to five full copy/banker boxes. E-Waste provided by Patriot Shredding – Residents may bring hard drives, CDs, DVD USBs, SD cards, keyboards/mice, data tapes, phones, modems, routers, flat Screen TVs, small tube TVs, computer monitors, printers, scanners, and fax machines.
Also, Read- Free Shredding Events NYC
Free Paper Shredding Events Canada
Free Paper Shredding Events Northern Virginia
What to Bring to Shredding Events in Fairfax County?
While most paper shredding events support the shredding of personal documents, few also allow businesses to bring their confidential documents for shredding. E-recycling is also supported in many recycling events. In any case, checking the terms and conditions before visiting any event is always advisable.
The list of generally accepted items includes:
Paper Documents
Old IDs
Travel Itinerary
Old Boarding pass
Old Bank Statements
Canceled Cheques
Old Tax returns etc.
As a smart resident, it's always advisable to bring only those acceptable items to the events. This way, you can help the organizers conduct the event smoothly.
Steps for Successful Eco-Friendly Shredding
There are a few steps that you must follow to make a shredding event successful:
Always consider visiting the shredding events organized by reputed organizers. They take care of your shredded waste in an eco-friendly manner.
Make sure to check the reviews of a shredding event, if possible, before attending the event.
Please make sure to shred that your material is ready before the shredding day to ensure that the process is carried out smoothly.
After the shredding, make sure that the shredded material is recycled properly. If not, please take the same and dispose of it at a local recycling unit.
Conclusion: Shredding Events in Fairfax County 2023
Shredding events in Fairfax County is a great way to eliminate unwanted confidential documents. Not only does it provide you peace of mind by shredding your documents safely, but it also helps the environment by following an eco-friendly shredding approach. With so many free paper shredding events planned around the year, we would recommend you take advantage as we update the list of shredding events in Fairfax County every month. Keep shredding and be safe.
FAQs- Shredding Events in Fairfax County 2023
How Do I Dispose of Shredded Paper in Fairfax County?
Even though most of the shredding events offer to recycle shredded paper, if you cannot attend a shredding event, it is always advisable to dispose of your shredded paper in a local recycling dump.
Where is The Best Place to Shred Paper?
Fairfax County shredding events are probably the best option for shredding papers. You can also consider opting for paid shredding services if the documents are highly confidential and require more security.