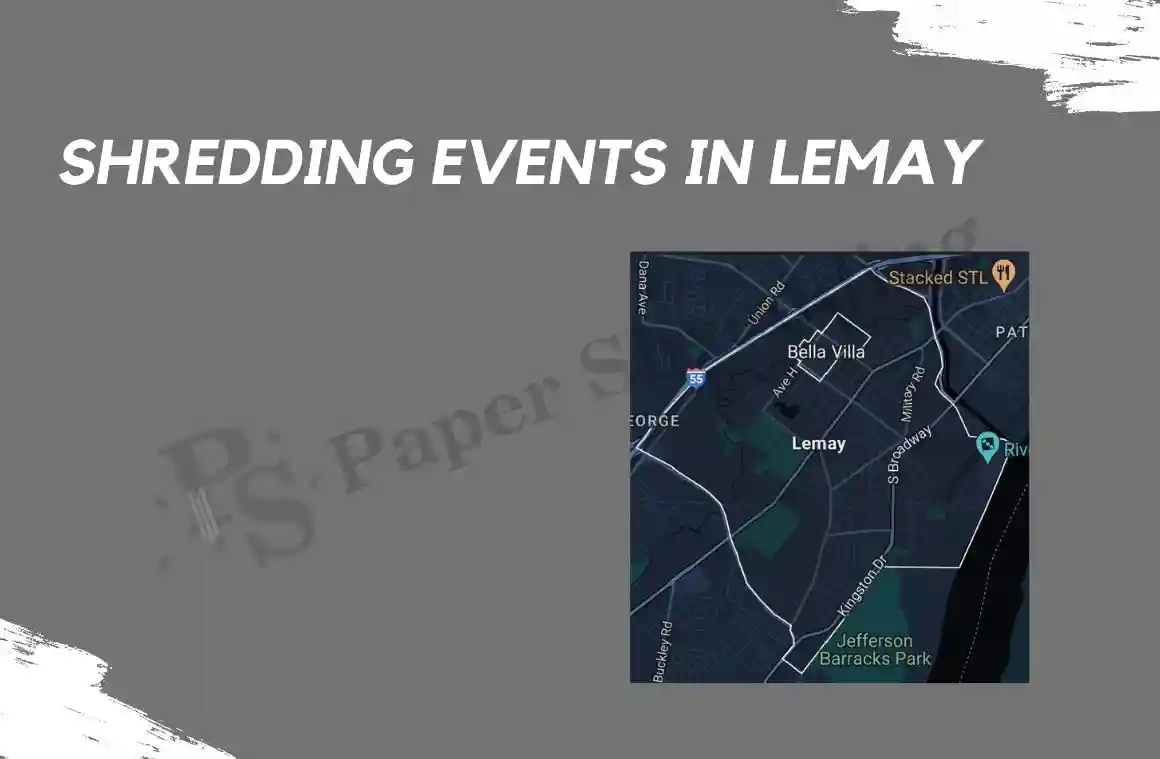 Lemay Shredding Events in 2023: Secure Document Disposal
Crimes like identity theft and fraud have taken over all the huge economies in the world and causing them a huge loss each year. One of the main reasons for identity theft is the careless behavior of people toward their old confidential documents that are no longer in need.
However, with Lemay community shredding events, you can protect your personal information and reduce the risk of financial loss caused by identity theft. Not only do they prevent identity theft but they also offer many other advantages than any other alternative to document disposal.
Stay tuned to the article to know more about Lemay mobile shredding and to explore Lemay shredding events in a fun yet educational way.
Table of Contents
Lemay Mobile Shredding Events
Lemay Mobile shredding is part of the Waste Connections family that provide several services like solid waste collection, transfer recycling, disposal services, recycling and resource recovery, etc. all across the US and Canada.
Lemay Mobile Shredding provides one-time, or regularly scheduled, secure shredding services to clients and it is certified by NAID. It also organizes many Lemay Mobile shredding events for residents and small businesses. Their goal is to set a high industrial standard for recycling, solid waste collection, on-site shredding, etc. services. So, be a part of Lemay Mobile shredding and attend any free Lemay shredding events near you.
Upcoming Lemay Shredding Events 2023
Lemay Shredding company organizes free Lemay community shredding events all across Washington. Below, we have given a list of upcoming Lemay shredding events in 2023, so choose the right shredding events near you:
October 21, 2023 (Shred Event-Sumner)
Timings: 10:00 am – 1:00 pm
Venue: Sumner Library
Address: 1116 Fryar Avenue, Sumner, WA
October 21, 2023 (Shred Event-Shelton, WA)
Timings: 11:00 am – 2:00 pm
Venue: Our Community Credit Union-Mt View, Shelton
Address: 2948 Olympic HWY N, Shelton, WA
October 21, 2023 (Shred Event-Millcreek)
Timings: 11:00 am – 2:00 pm
Venue: City Of Millcreek
Address: 15720 Main Street, Millcreek, WA
October 28, 2023 (Shred Event-Toledo)
Timings: 10:00 AM – 1:00 PM
Venue: South County Park
Address: 212 Ray Road, Toledo, WA
November 18, 2023 (Shred Event-Tacoma)
Timings: 9:00 am – 12:00 pm
Venue: Timberland Bank Parking Lot
Address: 7805 S Hosmer Street, Tacoma, WA.
Additional Info: Accepting donations for Pierce County Foster kids.
November 18, 2023 (Shred Event-Port Angeles)
Timings: 10:00 am – 1:00 pm
Venue: Elks Naval Lodge Swann General
Address: 602 E First St, Port Angeles, WA
December 02, 2023 (Shred Event-Yelm)
Timings: 10:00 AM – 1:00 PM
Venue: The Stor House Yelm
Address: 10512 Creek St SE, Yelm, WA 98597
Also, Read- Free Paper Shredding Events Pittsburgh
Free Paper Shredding Events Massachusetts
Conclusion
Lemay Mobile Shredding organizes many Lemay shred events all across Washington to provide a secure document destruction opportunity to all the residents and local businesses. With many benefits like convenience, environmental sustainability, compliance with legal requirements, etc.
Further, if you are residing in any of the nearby locations and looking for a secure shredding option, then choose the right Lemay-free shred events to shred your documents securely.
At last, it is important to remember important additional information about the events to avoid any type of hurdle while attending the event. Visit the official website of the event before attending the event for any updates. So, secure your identity and shred your old confidential document at a low cost with Lemay Shredding Events 2023.
Frequently Asked Questions
Can You Shred Paper with Staples?
Some paper shredders use professional industrial paper shredders which are capable of shredding paper with staples or paper clips. However, it is recommended to remove any type of non-paper items from paper as it may harm some shredders.
Is It Important to Shredding Paper?
To prevent your personal information from any unauthorized access and to reduce the risk of identity theft and fraud, it is important to shred paper with Lemay mobile shredding events.
Is It Better to Recycle Paper or Shred It?
Shredded paper is less likely to be recycled than sheets of paper which can become access your personal information to identity thieves. So, shredding paper is the best option to destroy your document and prevent your confidential information.