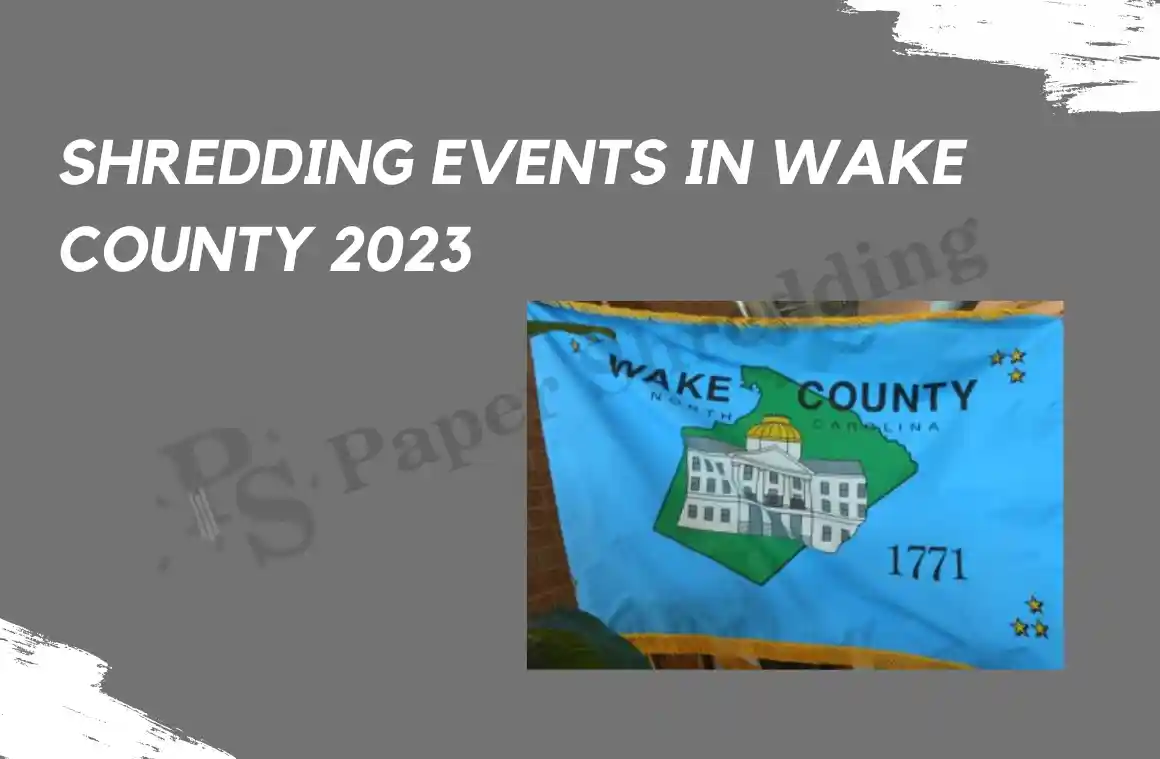 Wake County Shredding Events 2023: Secure, Shred and Recycle
As we are adopting a new digital age, becoming careless about traditional methods of storing information has become common. Securing sensitive information stored in the paper is important for all of us. However, using less secure methods like shredding by hand can become a reason for identity theft, so finding a convenient yet effective option for paper disposal is important.
In this article, we are going to discuss Wake County shredding 2023 as these are convenient yet effective methods of secure document destruction. Use the below information carefully and safeguard your information from identity thieves.
Table of Contents
Understanding Wake County Shredding Events 2023
With a population of more than a million people and home to many huge businesses and cooperations, Wake County, North Carolina was the ninth-fastest growing county in the United States. Because of the rapid growth of the economy, the need for free shredding events is also increasing.
These Wake County shredding events are very popular among residents because of their secure shredding service and trained team of shredding professionals. So, utilize this opportunity and protect your sensitive information from any unauthorized information with Wake County Shredding Events 2023.
Upcoming Wake County Shredding Events 2023
To find a free shredding event, searching "free paper shredding events near me" has become a common solution for all people. However, finding the right paper shredding events from a wide range of search results can be confusing. So, here we have given upcoming free shred events Wake County along with important details below:
September 16, 2023 (Annual Shred-a-thon Offered by Holly Springs Police)
Timings: 7:30 AM to 11:30 AM
Venue: Ting Park
Address: 101 Sportsmanship Way, Holly Springs, NC 27540
Additional Info: This is a free shredding event open to all the residents.
September 23, 2023 (Music in the Park: Arbor Day Edition)
Timings: 11:00 AM to 2:00 PM
Venue: McCord Family Park
Address: 101 W. First Street, Lowell, North Carolina 28098
September 30, 2023 (Shred Day 2023)
Timings: 9:00 AM to 11:00 AM
Venue: 3909 Sunset Ridge Road
Address: 3909 Sunset Ridge Road, Raleigh, NC 27607
Additional Info: This is a free shredding event open to all the residents. Destroy all your documents in a smart way to stay safe.
October 28, 2023 (Shred Event at Bethel Church Road)
Timings: 10:00 AM to 12:00 PM
Venue: Bethel Church Rd
Address: 19721 Bethel Church Rd, Cornelius, NC 28031
November 18, 2023 (Free Document Shredding Event for Chatham County Residents)
Timings: 9:00 AM to 1:00 PM
Venue: Solid Waste & Recycling Main Facility
Address: 28 County Services Road, Pittsboro, North Carolina 27330
Contact: (919) 542-5516
Additional Info: This shredding event is free and open to Chatham County residents only. Each attendee can bring up to three boxes or bags of documents for shredding at the event. No CDs, tapes, file folders, etc. are allowed for disposal at the event.
PS: It is always advisable to check the latest updates of the events before visiting the same as the events schedule is subject to change. Consider following the terms and conditions to ensure the smooth shredding of your documents easily. The event details get updated every week so stay tuned as we share with you more events getting organized near you.
Tips to Attend Wake County Shredding Events 2023
It is important to consider a few things while attending Wake County Shredding Events to avoid any mistakes in the shredding process. Here we have shared a few tips that will help you to avoid mistakes and make the most out of these shred events Wake County:
Collect all unwanted old documents that are cluttered in your home or office. Sort through all the papers to avoid any disposal of important documents.
Prioritize sensitive documents like bank statements, canceled cheques, credit card bills, medical records, etc. for shredding to not violate the limit of boxes imposed at the Wake County Shredding Events 2023.
Use sturdy boxes to store sensitive documents for easy transportation. Avoid using plastic and garbage bags as these are unacceptable in most free shredding events.
Metal items like staples, clips, etc. may harm the machines, so remove any metal objects before shredding.
Select the right shredding event for all your specific needs from the above-given list. Check the event details carefully or visit the official website of the selected event to avoid any problems in the future.
These Wake County shredding events are very popular among individuals and businesses. So, try to visit the selected event early as it may help you to avoid long queues.
Please follow all the terms of the event. Listen to all the instructions given by the organizer of the event.
By following all the above-given tips, you can shred all your unwanted sensitive documents in a safe and secure manner.
Conclusion- Paper Shredding Events in Wake County
To help all the residents and businesses from identity theft and fraud, Wake County Shredding Events 2023 are organized all around the county. Not only it reduces the risk of identity theft and offers a secure shredding service, but they also provide benefits like environmental sustainability, convenience, comply data privacy laws and regulations, and others.
Further, we have given a list of all upcoming Wake County shredding events along with necessary information like venue, date, timings, address, etc. Follow all the tips to make the most of these free shredding events. So, participate in these community shredding events to protect ourselves and our communities from potential identity threats and contribute positively to our environment.
Frequently Asked Questions
What Is the Shredding of Documents?
Shredding is a secure paper disposal technique used by individuals as well as businesses. You can use a shredder, appoint a shredding service, or attend free shredding events near you to shred all your unwanted sensitive papers.
What Is a Local Shred Day?
Local shred day or shred events Wake County is a secure document destruction option open to all individuals and businesses. It helps to prevent identity theft and protect sensitive information from unauthorized access.
Is There a Limit of Shredding?
Many Wake County shredding events 2023 may impose a limit of boxes of documents for shredding at the event. So, prioritize confidential documents for shredding.