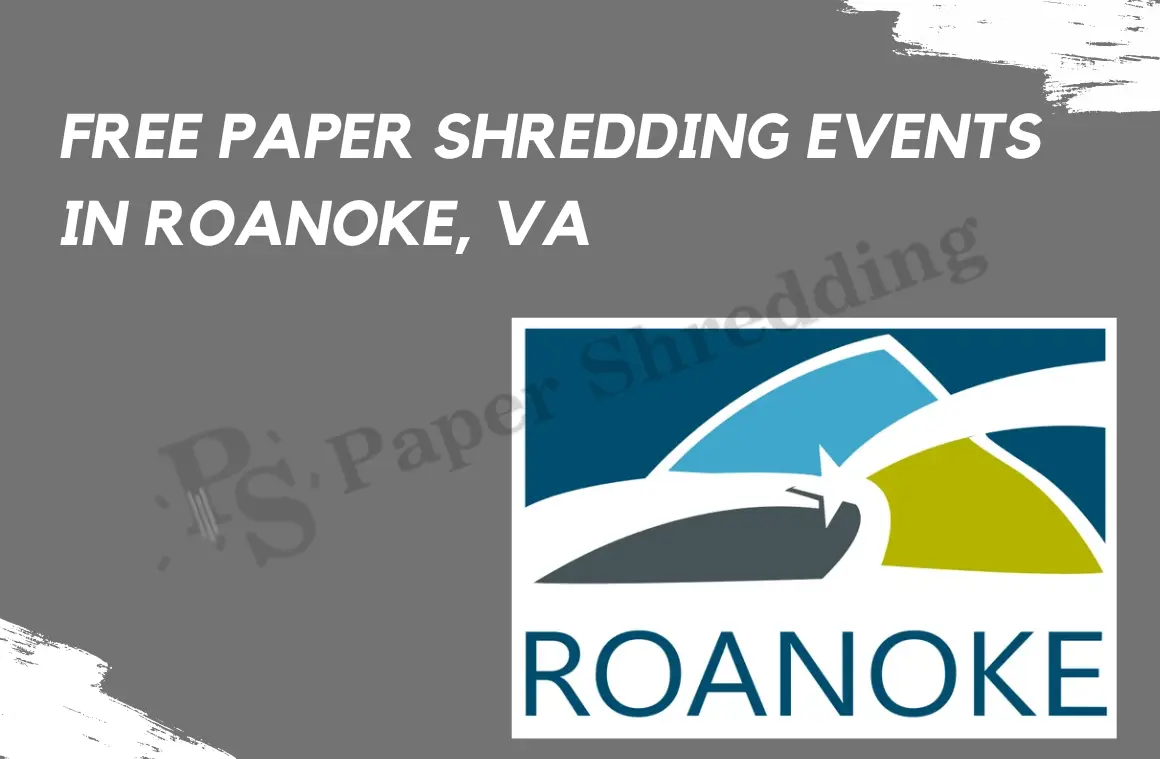 Free Paper Shredding Events in Roanoke, VA 2023
In this fast-paced world, we often realize that a lot of old papers and bills are getting piled up in our houses and offices. While we can digitalize most of these documents into softcopies, various important documents and bills are still required to be stored in hard-copy form only. And once these documents are not required, just throwing them away is not the solution.
It is Because these documents contain a lot of sensitive personal information that can be misused for conducting financial fraud. So, the best solution to this problem is attending free paper shredding events in Roanoke, VA 2023.
By joining these upcoming free paper shredding events, you are not only protecting yourself against identity thieves but also protecting the environment. So, let's get ready and be a part of these upcoming community shredding events.
Table of Contents
Why Roanoke's Shredding Events Are a Must-Attend in 2023?
We all face this problem of documents getting piled up at our homes. It's not a new thing, since we all rely on paper documents a lot. The best solution to get rid of these unwanted documents is the upcoming free paper shredding events in Roanoke, VA. These events are free and open to all the residents. Not only will it give you peace of mind but shall also save you a few bucks.
But these events aren't just about shredding. It's an amazing opportunity for the community members to gather together. You'll bump into familiar faces, maybe your next-door neighbor or the local bakery owner. It's a good feeling to see the community members having fun as their documents are getting shredded safely.
And let's not forget our dear planet. These papers, instead of cluttering landfills, are recycled. By attending these events, you are also doing your bit to save the environment.
In a nutshell, the "Shred a Thon Roanoke VA 2023" and its counterparts are not just events; they're experiences. They help you stay with the community and safeguard your identity at the same time. Get ready as we share with you a list of upcoming shredding events in Roanoke, VA in 2023.
List of Upcoming Free Paper Shredding Events in Roanoke
Below is a list of upcoming shredding events in Roanoke, VA.
Sep 21, 2023 (Rocky Mount Community Shred Event)
Timings: 10:00 AM to 2:00 PM Eastern Time
Venue: 295 Technology Dr
Address: 295 Technology Drive, Rocky Mount, VA 24151
Contact: AARP Virginia, Email: [email protected]
Additional Info: AARP Virginia offers this free service to combat fraud. The public is invited. Documents will be shredded in view of participants. Additional resources are available through the AARP Fraud Watch Network for those unable to attend on September 21.
Oct 10, 2023 (Shred-A-Thon)
Timings: 3:00 PM to 6:00 PM
Venue: Christiansburg Recreation Center parking lot
Address: 1600 N Franklin St, Christiansburg, VA 24073, US
Contact: Tammy "Phone: (540) 382-2349", ext. 2003" "Email: [email protected]"
Additional Info: Participants should bring their documents in specified boxes or totes, with a limit of three per vehicle. Certain items cannot be shredded. Attendees are advised to stay in their vehicles and not approach the collection site.
November 14, 2023 (Regional Shred Event)
Timings: 3:00 PM – 6:00 PM EST
Venue: 210 S Jefferson St.
Address: 210 S Jefferson St., Roanoke, VA 24011
Additional Info: Items to Remove: Metal objects, Batteries, Binder Clips, 3 Ring Binders, Electronics, Trash, and Food. 5 Boxes Per Business
November 16, 2023 (South Boston Community Shred Event)
Timings: 8:30 AM – 12:30 PM ET
Venue: South Boston Community Center
Address: 1927 Jeffress Boulevard, South Boston, VA 24592
Additional Info: Up to two boxes worth of items (banker box size) are acceptable at the event.
Also, Read- Free Shredding Events Long Island
Free shredding events Dupage County
Free Paper Shredding for Seniors Near Me
PS: The above-mentioned events are free and open to all. Attend them and get your documents shredded for free easily. The list gets updated every week so keep checking as we bring the best events for you.
How to Prepare for Roanoke's Shredding Events 2023?
Preparing for the shredding event doesn't require anything special. You can just pack your paper documents and show up at any of the free paper shredding events in Roanoke to get your documents shredded.
However, it's always advisable to be prepared well in advance before attending any free paper shredding event to make sure that the process is smoother and there is no last-minute hassle before or during the event. A few suggestions are mentioned below.
Separate the pile of documents that are required to be shredded and do a final check to avoid losing any important documents.
Once the documents are ready, pack them in a bag or boxes for easy transportation.
Make sure that there is no other material In between the documents such as ring files, plastic files, etc (Paper clips and staples are fine)
Always search for the list of free paper shredding events near me on our website to get information regarding upcoming events and scout the best one for yourself.
Read the terms and conditions of the specific event carefully, through our additional information section or the official website of the event's organizer.
Make sure to register for the event if required and take care of the shredding boxes limit (if any).
Load the paper documents in your vehicle on the shredding day and hand over the documents to the volunteers for shredding.
Donations are always welcome at most of the free shredding events, try to donate to a noble cause whenever possible.
Engage with other community members at the event to create a happy and social environment.
Following the above-mentioned steps will ensure that you have an amazing experience while attending these free paper shredding events. Not only will you be able to get rid of your unwanted confidential documents, but you'll also be able to do your bit for the environment.
Conclusion
In the above article, we understood the importance of Free Paper Shredding Events in Roanoke, VA. These shredding events provide an amazing opportunity for all the residents to get rid of their unwanted confidential documents at no cost.
These documents once shredded are recycled into different paper products, thus reducing the amount of paper that ends up in landfills. It also reduces the requirements of cutting down trees to make such paper products. This surely gives peace of mind to the individuals as they are aware of their documents getting shredded through a safe and reliable source. Also, it helps in promoting a sustainable environment.
So, we recommend all our readers to not toss up their unwanted documents in their trans bin. Rather, be responsible for your own safety and attend the upcoming free paper shredding events to get rid of your unwanted documents safely and securely.
Frequently Asked Questions
Where Can I Take Paper Documents To Get Shredded?