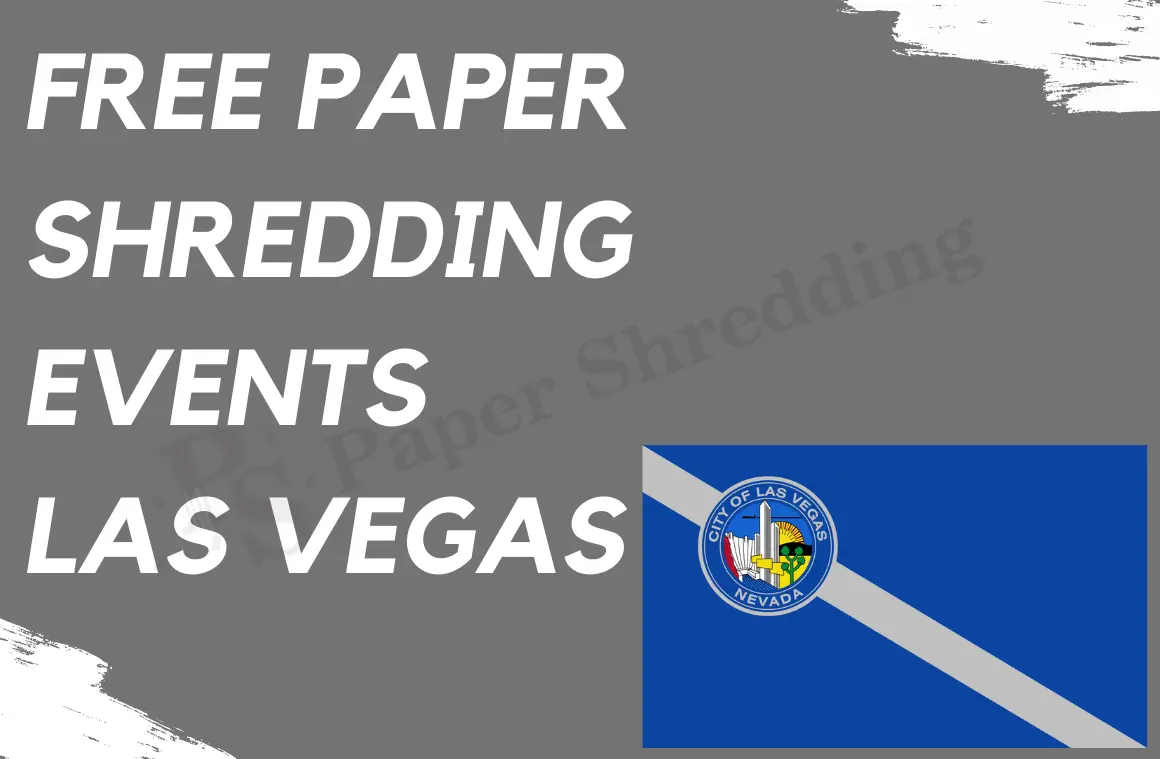 Free Paper Shredding Events Las Vegas 2023: Eco-Friendly and Secure Way of Documents Disposal
In a world of online documentation, people started being careless about their privacy and identity by not disposing of unwanted old documents that contain sensitive information properly. This is where paper shredding came into the picture. It is the best way of document disposal. However, using a paper shredder or a professional shredding service is quite expensive. Luckily, free paper shredding events Las Vegas 2023 are here to help you. So, stay tuned as we are going to explore a lot about these free paper shredding Las Vegas events in this article.
Table of Contents
Introduction: Overview of Paper Shredding Events Las Vegas
Las Vegas is the most populous city in the state of Nevada and the 25th most populous city in the United States. Las Vegas is popular for its gambling, entertainment, and hotel industry which attracts tourists from all around the world.
As tourism and other industries are growing in the city, protecting confidential information from falling into the wrong hands is important. You can do so with the help of free paper shredding Las Vegas events. It helps you in shredding all of your unwanted confidential documents while keeping your identity safe and secure.
Also Read- Free Paper Shredding for Seniors Near Me
Why Paper Shredding Events Las Vegas Important?
Shredding your old unwanted documents is the best yet most important step in the process of keeping your identity safe against the crimes of identity theft and identity fraud. Paper Shredding is beneficial in many other ways, some of which are listed below:
It is important to protect sensitive information that can be used for identity theft crimes like credit card fraud, taking loans, changing the credentials of your account, etc.
It is less expensive compared to shredding documents with an office paper shredder or hiring a professional shredding company. Many of these free paper shredding Las Vegas events are organized for free.
It is an eco-friendly way of shredding old documents. Shredded paper can be further recycled by the organizers.
Many organizers use these free shredding Las Vegas events to spread awareness and attract eyes to their businesses as well.
Upcoming Free Paper Shredding Events Las Vegas
The paper shredding event helps you in keeping your identity safe while decluttering your home and office. It is an easy yet effective way to protect your information and dispose of your unwanted documents. We have provided all the details of these free paper shredding events Las Vegas below:
April 8, 2023 (Document Shredding Event)
Timings: 10:00 AM to 12:00 PM
Venue: Pavillion Center Pool
Address: 101 S. Pavilion Centre Drive Parking Lot
Additional Information: This free paper shredding Las Vegas event is open to everyone. However, there is a limit of documents of up to 5 boxes for shredding.
April 22, 2023 (11th Annual Secure Your ID Day / Shred Day)
Timings: 9:00 AM to 12:00 PM
Venue: Better Business Bureau of Southern Nevada
Address: 6040 S Jones Blvd, Las Vegas, NV, United States
Contact Details: 702-320-4500
Additional Information: This is a free shredding event and is open to all. You can bring documents up to 4 boxes for free at the event; however, additional boxes will cost $10 each. No binders, X-rays, electronics, biohazard materials, etc., are accepted at the event.
Also Read- Montgomery County Shredding Events
Tips for Shredding Safely and Effectively
The paper shredding event allows you to dispose of your old confidential papers cost-effectively yet securely. If you search whrere to shred paper for free near me, you'll find many such events. You can use these free paper-shredding Las Vegas events in protecting your information against various identity theft crimes and frauds.
Further, we have shared some points that can help you shred your documents in a quick and efficient way. A few of these points are mentioned below:
Gather all your old unwanted documents such as bank statements, tax bills, utility bills, etc., and sort through them which makes the process quicker.
Categorize all of the documents and put them in a box or a grocery bag so that it is easy to transport.
Go early to the venue, which saves a lot of your time standing in line, and you have enough time to prepare for the event.
Follow the instructions of the organizers carefully.
Further, check all the details of the free shredding Las Vegas event given in the list carefully and remind the points shared above to make your process easy and quick.
Conclusion
In the modern world, data security should be everyone's priority which is why free paper shredding events Las Vegas are organized all around the state. The paper shredding event helps you keep your confidential information safe and secure against identity theft and fraud. We have shared all the necessary details above in the article, so without any further delay, check out these free paper shredding events in Las Vegas and keep your identity safe in an eco-friendly and secure way.