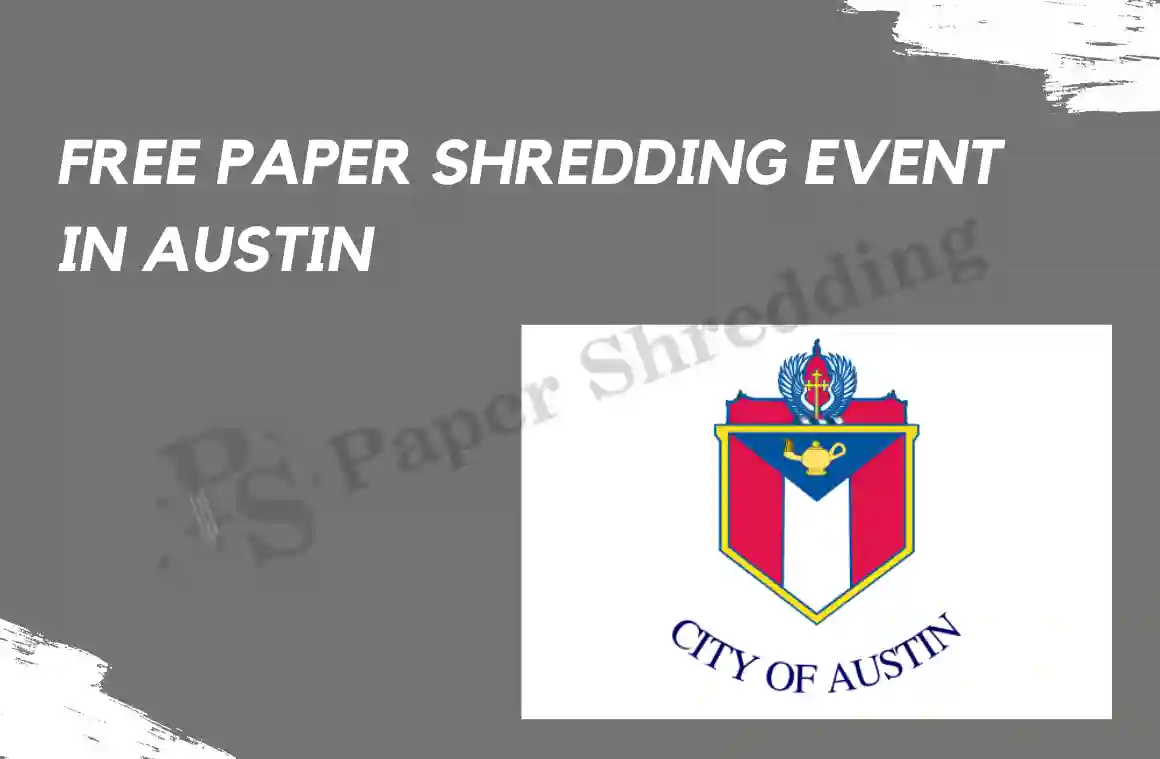 Free Paper Shredding in Austin, TX
In the vibrant city of Austin, businesses, as well as individuals, are seeking ways to protect their sensitive information. One such method which has proven to be beneficial always is paper shredding. And free paper shredding events in Austin can be considered the best option.
This effective yet relatively unexplored option is best to destroy unwanted confidential documents. This will surely help businesses and individuals in preventing issues like data theft and ensuring data security.
In this article, we'll explore the best options for free paper shredding in Austin, Texas. Also, we'll share a complete list of upcoming paper shredding events in Austin, TX.
Table of Contents
The Importance of Free Paper Shredding in Austin, TX
Free paper shredding in Austin, TX is more than just a means of destroying unwanted documents. It is an important step to safeguard your personal information by protecting it from falling into the wrong hands. Every year, various cases of identity theft arise due to improper document disposal.
According to the Federal Trade Commission, there were 1.4 million identity theft reports in 2020, a rise of about 45% compared to the previous year1. Just by taking one step of shredding these unwanted documents carefully, we can significantly reduce these numbers.
But what exactly is identity theft? Identity theft is a process whereby a thief steals your personal information such as your full name, social security number, credit card information, financial statements, junk emails, and other important document. These documents are then structured in such a way that maximum information can be extracted out of the same.
This information now, can be used to commit fraudulent activities such as applying for credit cards, filing wrong taxes, or getting medical services, etc. These simple yet dangerous acts can significantly affect your credit status and shall cost you time and money to restore your financial goodwill.
Also, Read: Free Paper Shredding Events Canada
Moreover, Austin paper shredding is merely not about data security. It is also an eco-friendly practice. The shredded documents are often recycled and used to produce various paper products which can prevent a lot of deforestation. Every paper saved and reused can help the environment by saving another tree on our planet earth.
List of Free Paper Shredding Events in Austin, TX
To promote their ethical practices, various entities in Austin, including businesses, charities, non-profit organizations, and other companies, organize free paper shredding events. These events serve a dual purpose.
While the community members get an opportunity to get rid of their unwanted documents with complete safety for free. The entities who sponsor such shredding events showcase their commitments to corporate social responsibility and by promoting their primary business amongst potential customers at the same time. This creates a win-win situation for everyone involved.
A complete list of upcoming free paper shredding events in Austin, TX, and other nearby locations is as follows:
September 19, 2023 (Shred Event by LT Senior Services)
Timings: 1:00 PM – 3:00 PM
Venue: Lakeway Aquatic Physical Therapy
Address: 900 Ranch Rd 620 S A103, Lakeway, TX 78734, USA
Additional Info: In this Austin paper shredding event, Volunteers will be present to accept documents, and ATI Secure Docs will provide trucks and locked bins for collecting papers to be shredded at their secure warehouse. Donations to support LT Senior Services' work in the community are appreciated.
Also, Read: Free Community Shredding Events in Dallas
Free Paper Shredding Events Las Vegas
PS: The above-mentioned paper shredding events are open to all. You can consider visiting any of the aforesaid events based on your personal preference.
The Benefits of Austin Paper Shredding for Businesses and Individuals
Free paper shredding in Austin offers numerous benefits to both businesses and individuals. On the one hand, they work as the perfect opportunity to get rid of unwanted documents that contain sensitive information. Attendees can bring their sensitive documents and get them shredded safely at no cost.
Furthermore, these events also serve as an educational platform. A large community of people can be educated about the importance of safe document destruction thereby reducing the cases of identity theft in this digital era, where data breaches and identity theft is very common.
How to Find Free Paper Shredding Events in Austin
While it is true that the frequency of paper shredding events in Austin, TX is limited. It is also important to understand that finding free paper shredding events in Austin is easier than you might think.
Our website papershreddingevents.com provides complete information regarding the list of various upcoming free paper shredding events organized in various cities including Austin. We also provide information regarding the best shredding services too. By visiting our site, you can stay updated on upcoming events and plan accordingly.
Alternatively, we recommend you visit various local websites such as austintexas.gov, austinarma.com, austingchambers.com, etc which organized free paper shredding events in the city frequently. You shall be able to find free paper shredding events at your convenience easily.
Conclusion
Paper shredding is an essential practice if you want to safeguard yourself from identity stealers and comply with data protection laws. Free paper shredding in Austin provides an invaluable opportunity for businesses and individuals to make sure that the documents are disposed of properly. By attending these paper shredding events, we all can contribute towards a much safer and more sustainable future. So, next time you come across a stack of unwanted documents in your home or office. Consider attending a paper shredding event in Austin, TX. Your one step can make a big difference for yourself as well as the environment.
FAQs
Where is the Best Place to Shred Documents?
You can attend free paper shredding events or visit the shredding services in nearby locations.
Can you Drop Stuff off in Shred it?
Yes, Shred-it offers a drop-off facility. So, you can drop your unwanted documents for safe shredding in return for a small fee.