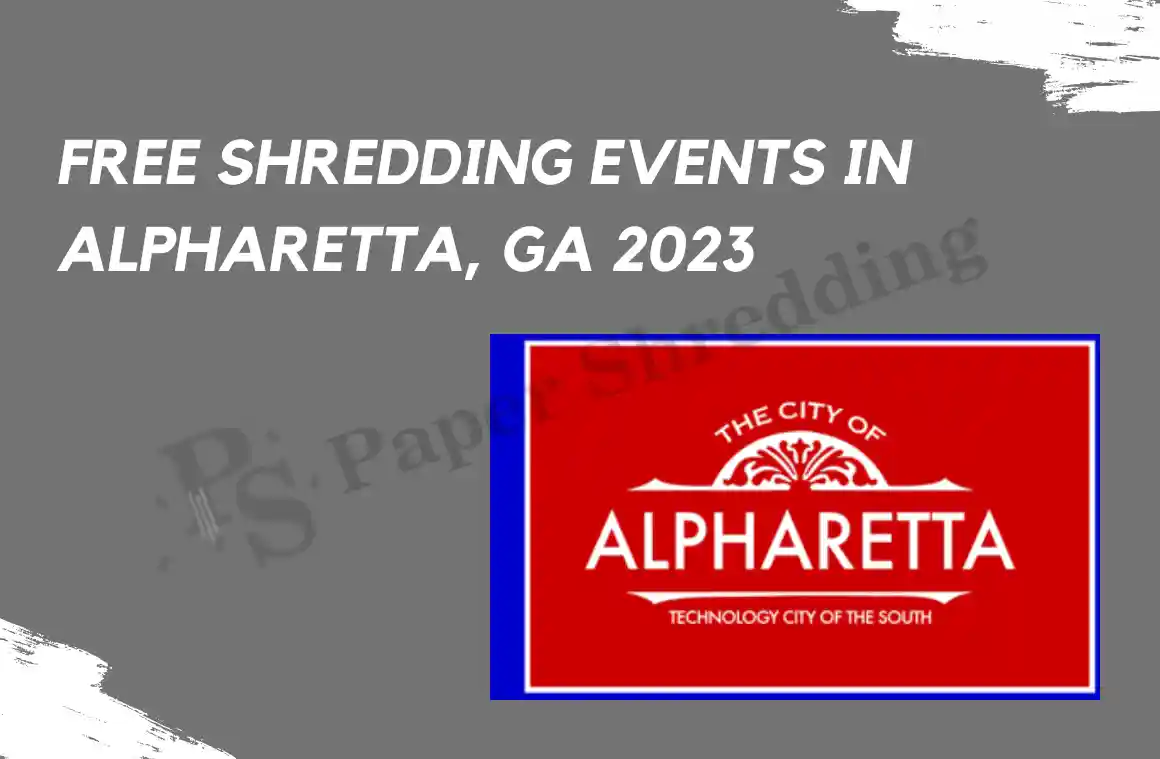 Document Shredding Services and Free Shredding Events in Alpharetta, GA 2023
Document destruction is one of the most prominent ways to get rid of unwanted confidential documents safely. In the current digital era, the security of physical documents remains a big concern for individuals and businesses. In Alpharetta, GA various paper shredding services and free paper shredding events provide an opportunity to get rid of unwanted sensitive documents.
While the paper shredding services can cost you a few bucks, free shredding events in Alpharetta, GA are often organized for community members free of cost. All this with just one motive of preventing the risk of identity theft by providing a safe environment for unwanted confidential document destruction.
In this article, we'll share with you the importance of unwanted document shredding, the best shredding services in Alpharetta, and a complete list of upcoming paper shredding events in Alpharetta, GA.
Table of Contents
Why Shredding is Important in Alpharetta GA
While the population of Alpharetta, GA is approximately 66,000+ which is not too much. But with nearly 700 tech-centric companies in the city, Alpharetta continues to lead the Metro Atlanta area as the single leading destination for information technology services. This indicates the importance of paper shredding in Alpharetta.
Do you think that paper shredding is only for decluttering? No, it isn't completely true. While shredding surely helps you in decluttering your personal and office space, it also helps in protecting personal and business information from potential data theft.
Whether it is your old tax returns, business agreements, bank statements, or business contracts, these documents contain a lot of sensitive information which can be misused and can result in financial losses if mishandled. It is best to shred them securely so that they don't end up in the wrong hands.
Identity theft is a very common crime and the primary reason behind the same is non-awareness amongst community members towards safe document disposal. This can often result in huge financial losses and mental stress. By shredding your documents safely, you are not only protecting yourself against the risk of identity theft but also adopting an eco-friendly approach. Shredding people is easy to recycle and takes up less space in landfills. Thus, protecting the identity and the environment at the same time.
Free Shredding Events in Alpharetta, GA 2023
While we already discussed the importance of paper shredding in Alpharetta. Let us look at the complete list of upcoming paper shredding events in Alpharetta and nearby locations below.
August 26, 2023 (Shredding Event)
Timings: 10:00 AM – 1:00 PM EDT
Venue: Keller Williams Community Partners
Address: 540 Lake Center Parkway Suite 201, Cumming, GA 30040, United States
Additional Info: Join this free shredding event where you can safely dispose of old tax/financial documents or any items containing private information. A shredding truck will be available on-site. BBQ will also be served.
August 26, 2023 (Paper and Popsicles)
Timings: 12:00 PM – 2:00 PM EDT
Venue: 772 Edgewood Ave NE
Address: 772 Edgewood Avenue Northeast, Atlanta, GA 30307, United States
Additional Info: Join this paper shredding party on August 26th! Bring your old papers and enjoy cooling off with King of Pops. This is a free event hosted by The Anna K Intown Team. Let's clear out those stacks of papers and have some fun.
PS: The above-mentioned list contains all the events getting organized in Alpharetta and nearby locations which are accessible easily. You can consider visiting any of these events based on your personal preference. All terms and conditions are the same as mentioned in the additional information section of each event. The list is updated regularly to ensure all new events are updated here regularly.
Best Paper Shredding Services in Alpharetta, GA 2023
Eco Shredding and I Shred are the two best local shredding companies in Alpharetta which provides the best shredding service. They provide both on-site and off-site shredding service which helps you choose the best one based on your personal preference. Let us discuss more about both of them in detail.
Eco Shredding Service
Eco shredding presents itself as the best shredding service provider in Alpharetta. They are reluctant about their 100% recycling approach as the entire shredding lot is properly shredded and recycled into different paper products, thus resulting in zero waste.
They also offer a mobile shredding service where a shredding truck is sent to your location and all your documents are shredded in front of the client on-site. This type of service is ideal for all large businesses with high-volume shredding needs or if the documents contain highly sensitive information.
I Shred Service
I Shred is yet another shredding company that has the reputation of best shredding service provider in Alpharetta. They provide a comprehensive range of services such as hard drive destruction, paper destruction, etc which makes sure that all shredding needs are fulfilled under one roof.
While both these shredding companies provide best-in-class service, it is always ideal to check the local reviews online and offline to ensure that you choose the best fit for your needs.
Conclusion
Whether you are an individual who is looking to get rid of your unwanted confidential documents or a business with a bulk of confidential papers. Alpharetta, GA provides a wide range of solutions that can help you shred all these confidential documents easily without any hassle.
From secure shredding services to community shredding events, you can ensure your documents are disposed of securely and responsibly.
Frequently Asked Questions
How Do You Prepare for Shredding?
This is very simple, you just need to separate all your unwanted documents in one place and remove the binder clips, staples, and other binders if required. Post that, documents can be fed into the shredding machine for destruction.