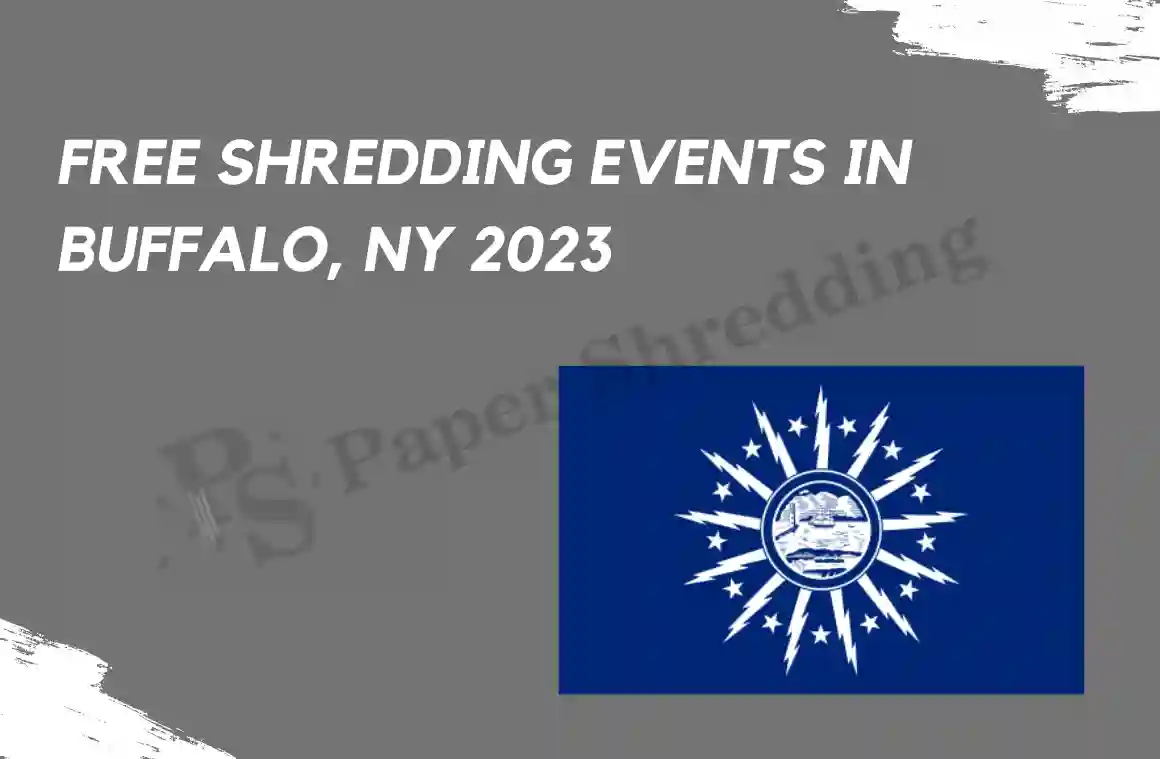 Upcoming Shredding Events in Buffalo, NY 2023: Your Comprehensive Guide
Buffalo is located in western New York on the eastern shores of Lake Erie and at the head of the Niagara River. It is also the second largest city in the NY state. Buffalo, NY, is a city renowned for its vibrant culture and rich history. The city is home to various big businesses and residents. As the city is thriving with an increasing population and growing economy, Buffalo also recognizes the importance of protecting their confidential information. And what's better than the shredding events in Buffalo, NY?
In this digital era, the best way to safeguard your confidential information is through proper document management. And one of the most effective ways to do the same is through safe paper shredding.
In this article, we'll discuss the importance of paper shredding events in Buffalo, NY. Also, we'll share with you a complete list of upcoming events. So, get ready with the pile of documents that you want to shred as we share with you all the details and information regarding the same.
Table of Contents
The Importance of Shredding Events in Buffalo NY 2023
In Buffalo, shredding is not just a crucial task; rather it's considered a crucial step in maintaining privacy and preventing identity theft. Every year, tons of confidential documents are discarded without proper preventive measures, resulting in significant risk. By shredding these documents safely through shredding events, you can eliminate this risk of identity theft easily.
Further, the importance of shredding events in Buffalo is not only limited to individuals. Businesses whether small or big, also uses a lot of confidential documents. These documents if not disposed of properly can lead to a lot of unexpected financial liabilities and can even destroy the goodwill of such businesses. Therefore, individuals, as well as businesses in Buffalo, eagerly wait for such free paper shredding events to get rid of their unwanted confidential documents.
While most of the free paper shredding events offer benefits to individuals only. A few such events also allow businesses to shred their documents for free. Also, businesses that operate with highly sensitive information opt for paid shredding services to destroy their documents with a high level of security.
List of Upcoming Paper Shredding Events in Buffalo, NY 2023
In 2023, Buffalo is hosting various free paper shredding events in different parts of the city. These events are sponsored by various businesses and not-for-profit organizations. The main purpose of organizing these events is to create awareness towards safe document disposal.
A list of all such upcoming events in Buffalo and nearby location is as follows:
September 9, 2023 (West Seneca Community Shredding)
Timings: 09:00 AM to 12:00 PM (GMT-04:00)
Venue: Wimbledon Plaza
Address: 220 Center Rd, West Seneca, NY, United States
Contact: 716-675-4766
Additional Info: Community Shredding event. $10 per box. The Rotary Club of West Seneca and Shred-it have teamed up to shred documents while you watch. This fundraising event supports the Rotary Club's projects.
September 9, 2023 (Free Fall Shredding with the Perinton Clerk's Office)
Timings: 8:00 am – 12:00 pm
Venue: Perinton DPW
Address: 100 Cobb's Lane, Fairport, NY 14450, United States
Contact: (585) 223-5115
Additional Info: Open to Perinton residents. A limit of 4-5 boxes of paper per vehicle is applicable for shredding at the event.
September 9, 2023 (Credit union holds shred day, food drive)
Timings: 9:30 am – 12:30 pm
Venue: Great Erie Federal Credit Union
Address: 4000 N. Buffalo Road, Orchard Park, 14127 United States
Contact: 716-662-1311
Additional Info: There is a limit of three bags or boxes of items to shred.
September 12, 2023 (Paper Shredding Event – Free)
Timings: 2:00 PM – 4:30 PM EDT
Venue: 11 South Street Geneseo
Address: Tompkins Geneseo Branch
September 30, 2023 (Free Paper Shredding Event)
Timings: 9:00 AM – 11:00 AM
Venue: Department of Public Works
Address: 2629 East Ridge Road, Rochester, NY 14622
Additional Info: Maximum of 4 "bankers boxes" (12″x15″) per household. No Plastic Bags are allowed for disposal at the event.
PS: The above-mentioned paper shredding events are free and open to all unless mentioned otherwise. The list is updated every week to add new events regularly. You can consider visiting any of these events to get rid of your unwanted confidential documents.
Benefits of Attending Free Paper Shredding Events in Buffalo, NY 2023
Free paper shredding events provides numerous benefits to the community. A few of them are mentioned below.
It provides a secure and convenient opportunity for community members to get rid of their unwanted confidential documents at no cost.
These events promote environmental conservation via recycling paper documents and making various paper products from the same which can be reused. This reduces the need for cutting more trees thereby reducing carbon footprints.
Further, these events create awareness amongst the community members towards the safe disposal of documents.
All these examples are evident enough to understand the various benefits of attending free paper shredding events and how they help us in creating an eco-friendly and secure environment.
Conclusion
In conclusion, paper shredding events is an essential practice to destroy unwanted confidential documents. Buffalo, NY recognizes this importance and organizes various free paper shredding events every year in the city. All these events help the community members in destroying their unwanted confidential documents easily for free.
With all these free paper shredding events, individuals are also requested to check all the terms and conditions of these events and plan accordingly with all the limitations in mind.
Frequently Asked Questions
Where is The Safest Place to Shred Documents?
The safest place to shred confidential documents is through a paper shredding event or the nearest shredding facility. They offer best-in-class service including the best shredding machines and safety protocol to destroy these confidential documents.