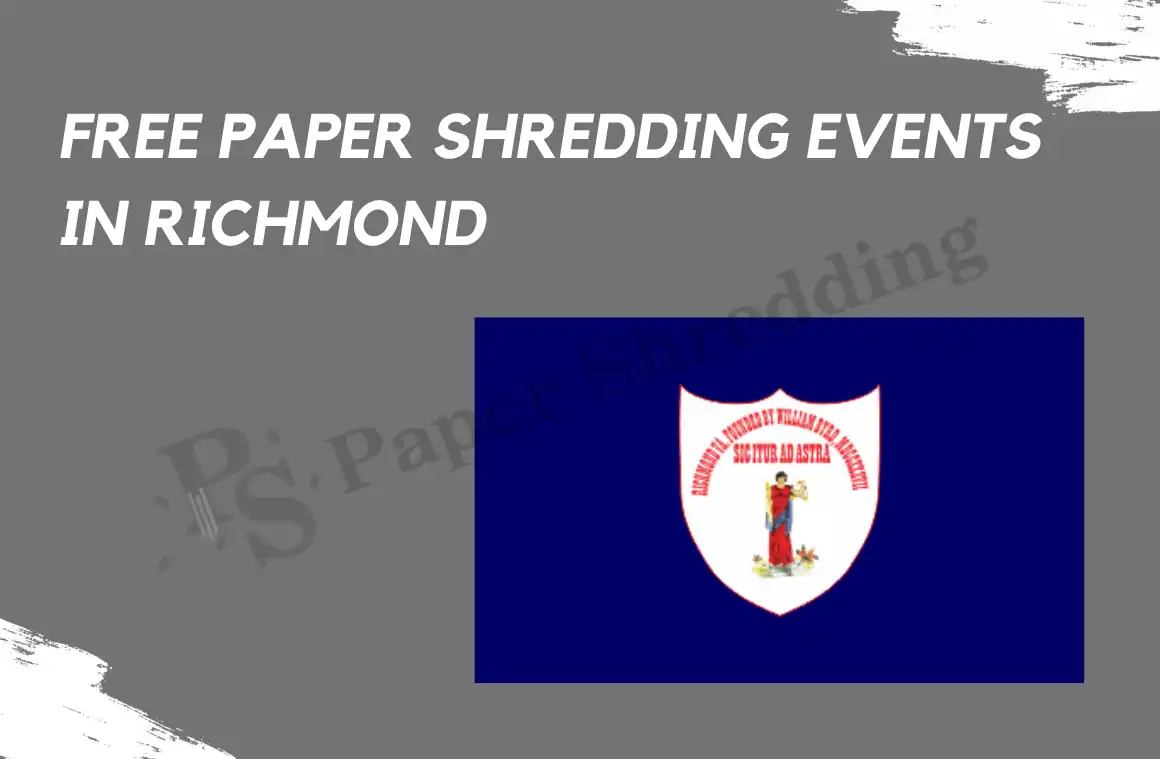 Free Paper Shredding Events in Richmond VA 2023
The situation of overflowing documents lying in our home and office space is similar for all of us. We often prefer keeping these documents in our possession rather than throwing them away. All this is because of the lurking risk of identity theft and fraud. The best way to get rid of these unwanted confidential documents is through free paper shredding events in Richmond, VA.
The local authorities understand the importance of the safe disposal of these confidential documents. This is the primary reason why free paper shredding events are frequently organized in this beautiful city.
If you are residing in Richmond and are looking for the best way to get rid of your unwanted documents in 2023 then here is your chance. Stay tuned as we share with you the complete information regarding the upcoming free shredding events in Richmond, VA.
Table of Contents
Why Attend a Shredding Event in Richmond VA?
In this digital era, we are all concerned about our smartphones or computers getting hacked. But it's equally important to understand that protecting physical documents is also very important. Documents such as bank statements, old medical bills, credit card bills, or even utility bills can become an easy source for identity stealers to target you.
If discarded carelessly, these documents can often land you in huge financial trouble. This is the reason why free paper shredding events in Richmond, VA are considered the first line of defense against the risk of identity theft. The further explanation is as follows:
Protection Against Identity Theft: Shredding documents through reliable shredding events helps in preventing identity theft. By shredding personal documents, citizens can rest assured that their information is safe.
Eco-Friendly Disposal: Shredding is not just about decluttering office space. It is important to know that shredded documents are recycled into new paper products. This results in less demand for cutting down trees and less paper waste ends up in landfills.
Cost-Effective Solution: Buying a paper shredder or hiring the best shredding services can be expensive. Free paper shredding events in Richmond, VA are the best alternative to shred your documents in an equally safe and reliable manner.
Community Engagement: Shredding events are often clubbed with other events such as food drives or local fairs. This allows the community members to socialize and meet new people while participating in a collective effort towards a safer and cleaner Richmond.
Peace of Mind: It gives immense peace when you see your home or office space getting decluttered and the stack of documents getting shredded. You can be assured of the fact that the documents will not fall into the wrong hands. This in turn leads to peace of mind and a sense of security.
Note: Shredding events aren't just a task that you need to get done. But, it's also an opportunity for people to socialize and have fun while getting their documents shredded. And, this is what makes it worth attending.
Upcoming Free Paper Shredding Events in Richmond VA 2023
Richmond residents, mark your calendars! Here's a list of the most anticipated free paper shredding events in Richmond for the year 2023:
October 20, 2023 (Shred Event at Staples Mill)
Timings: 1:00 pm – 3:00 pm
Venue: Staples Mill
Address: 6011 Staples Mill Rd, Richmond, VA 23228
Additional Info: Open to Credit Union Members only. Shred up to 3 boxes at the event.
October 24, 2023 (Shred Event at Mayland Ct)
Timings: 10:00 AM – 12:00 PM
Venue: Mayland Ct
Address: 3660 Mayland Ct., Henrico, VA 23233
Additional Info: Open to Credit Union Members only, Free – 3 box Limit
October 25, 2023 (Shred Event at Hanover)
Timings: 1:00 pm – 3:00 pm
Venue: Hanover
Address: 9397 Atlee Rd, Mechanicsville, VA 23116
Additional Info: Credit Union Members only. Free – 3 box Limit
October 27, 2023 (Shred Event at Iron Bridge Rd)
Timings: 10:00 AM – 12:00 PM
Venue: Iron Bridge Rd
Address: 10712 Iron Bridge Rd, Chester, VA 23831
Additional Info: Credit Union Members only. Limit: 3 box.
November 4, 2023 (Shred Event at County of Hanover)
Timings: 8:00 am – 12:00 pm
Venue: Verdi Lane Refuse and Recycling
Address: 7427 Verdi Ln, Mechanicsville, VA 23116
Contact: Shred Event at County of Hanover
Additional Info: Open to Hanover County residents only. ID is required for participation. Up to 4 boxes (10″ by 12″ by 18″), paper bags, or an equal of documents will also be accepted for shredding.
November 11, 2023 (Community Shred Day)
Timings: 9:003 boxes 12:00 PM
3 boxesue: Woodstream Church
Address: 9800 Lottsford Rd., Mitchellville, MD 20721
Additional Info: Remove all other fasteners.
November 18, 2023 (VLP: Client Shredding Event)
Timings: 9:00 AM – 12:00 PM EST
Venue: VLP Financial Advisors (Office)
Address: VLP Office 8391 Old Courthouse Road Vienna, VA 22182
Additional Info: Bring all your papers at this free shredding event, however, remember to remove all the binders before shredding as they are not allowed at the event.
November 18, 2023 (Repair Fair & Recycling Expo)
Timings: 9:00 AM – 1:00 PM
Venue: Warhill High School
Address: 4615 Opportunity Way, Williamsburg, VA 23188
Additional Info: Limit: 2 banker boxes/grocery store bags per person. Open to all James City County residents.
Also Read: Burlington County Shredding Events
Free Shredding Events in Houston
Free Paper Shreddig Events in Roanoke
Henrico County Shredding Events
Note: Specific dates, venues, and timings will be updated as they are announced by local organizations and the city of Richmond. Also, consider checking the terms and conditions before visiting any of the aforementioned events to ensure the smooth processing of your documents shredding process.
What to Bring to the Shredding Events
Before you head to a shred event in Richmond VA, ensure you're well-prepared. Below mentioned points below will help you prepare well for an upcoming shredding event.
Documents: Gather all old and unnecessary documents containing personal, financial, or sensitive information. This will help you to separate documents that contain confidential documents and are not required anymore.
Identification: Some events might require a valid photo ID for verification. It is always recommended to carry a valid ID proof of residence to ensure that you are allowed to attend the respective events.
Storage: Bring your documents in a box or bag for easy handling. This will be beneficial if you have to carry the documents yourself from parking to the shredding location. Also, it'll be easy for drive-through shredding as volunteers will be able to move your documents fast and easily.
Note: Always check the specific requirements of each event, as some might have restrictions on the number of documents you can bring.
Alternatives to Free Shredding Events
If you can't make it to one of the free shredding events, there are other options available:
Shredding Services Richmond VA: There are several professional shredding services in Richmond, such as "Document Shredding Richmond VA," that offer secure document destruction for a fee. You can look for these shredding services and choose which one is best for you.
DIY Shredding: If you have a small number of documents, consider investing in a home shredder. Please check out how to shred documents without a shredded to know more about the same.
Investing in a Paper Shredder: If your shredding requirements are constant then investing in a good paper shredding for home and office use will be a wise choice. You can check amongst the best paper shredders available in the market and pick the one that suits your requirements.
Conclusion
Free Paper shredding events in Richmond VA are an excellent choice for residents to get rid of their unwanted confidential documents. One can attend any of these events to get rid of unwanted confidential documents at no cost.
These events aren't just about shredding your documents. They also help you meet new people and socialize whenever there are other joint events such as food festivals or local fairs. Gather your documents and get ready for the next free paper shredding event near you.
Frequently Asked Questions
Where Can I Find More Information About Upcoming Shredding Events in Richmond VA?
You can visit our paper shredding events website to learn more about the upcoming events. Alternatively, keep an eye on local government websites, and community centers, or search online for free shredding events in Richmond VA 2023 for the latest updates.
Are There Any Restrictions on What I Can Bring to A Shredding Event?
Most events have a limit on the number of documents or boxes you can bring. It's always best to check the specific event's guidelines. Also, it's always preferable to check the terms and conditions of the respective event for complete clarification.